You're engaged. Congratulations! Let the dress shopping, photographer hiring, and cake tastings commence. Getting ready for the big day is exciting, and – of course – you want your family and friends to be there to celebrate with you. From your save-the-dates to stunning wedding invitations, you need to ensure that your guests have a positive experience from the start. Part of that is keeping them informed. A Joy wedding website can accomplish that and so much more. 
This post is in partnership with Joy, a company that I wholeheartedly believe has the best wedding websites for today's couple.
How a Joy Wedding Website Offers More
Long gone are the days where couples were merely searching for the best free wedding websites. Today's brides and grooms long for a wedding RSVP website that keeps them organized.
The best wedding websites offer unique features such as managing guest lists and curating photos, and Joy offers some of loveliest free (yes, the best FREE) wedding websites with RSVP features and so much more. 
Joy wedding websites offer multiple features. 
Wedding RSVP Website Features
Yes, there are so many perks beyond curating a guest list, but since most people find a couple's wedding website a practical place to say "yay" or "nay" to an event, it's best to start there. It's safe to say that Joy offers the best wedding websites for RSVP convenience, and here are a few perks beyond the yes or no. 
Digital RSVP Tracking
Within Joy's ability to track a guest's attendance, you can ask follow up questions, such as which events guests will attend and what their meal choices are for those events.
The system is highly responsive. When a person says they aren't coming to your wedding, they won't receive a follow up asking them whether they want the filet or the salmon for dinner. 
In addition to meal preferences, guests can list essential factors such as dietary restrictions and allergies. Beyond cuisine, another perk of Joy's wedding RSVP website feature is that additional follow up questions – such as whether guests need a hotel room or transportation to any events – can be customized and added. 
Joy allows guests to respond on the wedding checklist site and for their information to be organized.
Guest List Manager
Not only can you organize your wedding and reception guests, but Joy's guest list manager manages lists for other events, such as rehearsal dinners and bridal luncheons.
Within your master guest list, you can create sub lists for additional functions to keep everything organized and in one place.
To limit the trickiness of plus-ones (read our etiquette here!), you can set the number of people a guest can bring – or not bring – with them to your events. Within the customization, each guest will only receive the questions for the events to which they are invited.
Then they will receive follow-ups based on their response. So intuitive! Oh, a Joy wedding website keeps up with guest counts, too. It's like having a mini-event planner by your side!
Digital or printed invitations are available to coordinate with your wedding RSVP site.
Perks of a Joy Wedding Checklist Website
Ok, now that you have found the perfect wedding RSVP website, wait until you hear what a Joy wedding website can offer you beyond the RSVP. 
Joy is

100% free

for couples. Did I mention that already?

There are hundreds of

gorgeous wedding website designs

from which to choose. Pick one that matches your style! 

You can

customize your layout

, change fonts, and add videos and photos to your wedding RSVP website. 

For those who want

everything to match

(who doesn't right?), you can send save-the-dates and wedding invitations that match your site. Digital save-the-dates, e-cards, and invitations are unlimited through Joy.

If you prefer

paper stationery

, you can order ones that match your Joy wedding website through one of their printing partners. Voila! It's so easy to coordinate everything. 

Google Maps, Lyft, and Uber integration make getting to and from wedding-centric events as

effortless

as possible. 

Whatever your

registry

choice – traditional, cash, or

charity based

– they are easily linkable.

Joy's mobile app allows you to

plan on the go

and for guests to keep wedding details at their fingertips.

Guests can find and book the

best accommodation deals

through the Booking Assistant feature.

Easily

send push notifications

to guests. 

Multiple admin access and customizable privacy settings ensure that everyone sees what they should, such as which guests can view what is on their

personalized wedding schedule

. 

Create a

shared photo album

where guests can upload their images and see photos from others. 
Joy Wedding Websites Examples
I can talk about Joy wedding website options all day long, but seeing is believing. Just take a peek at their lovely design choices!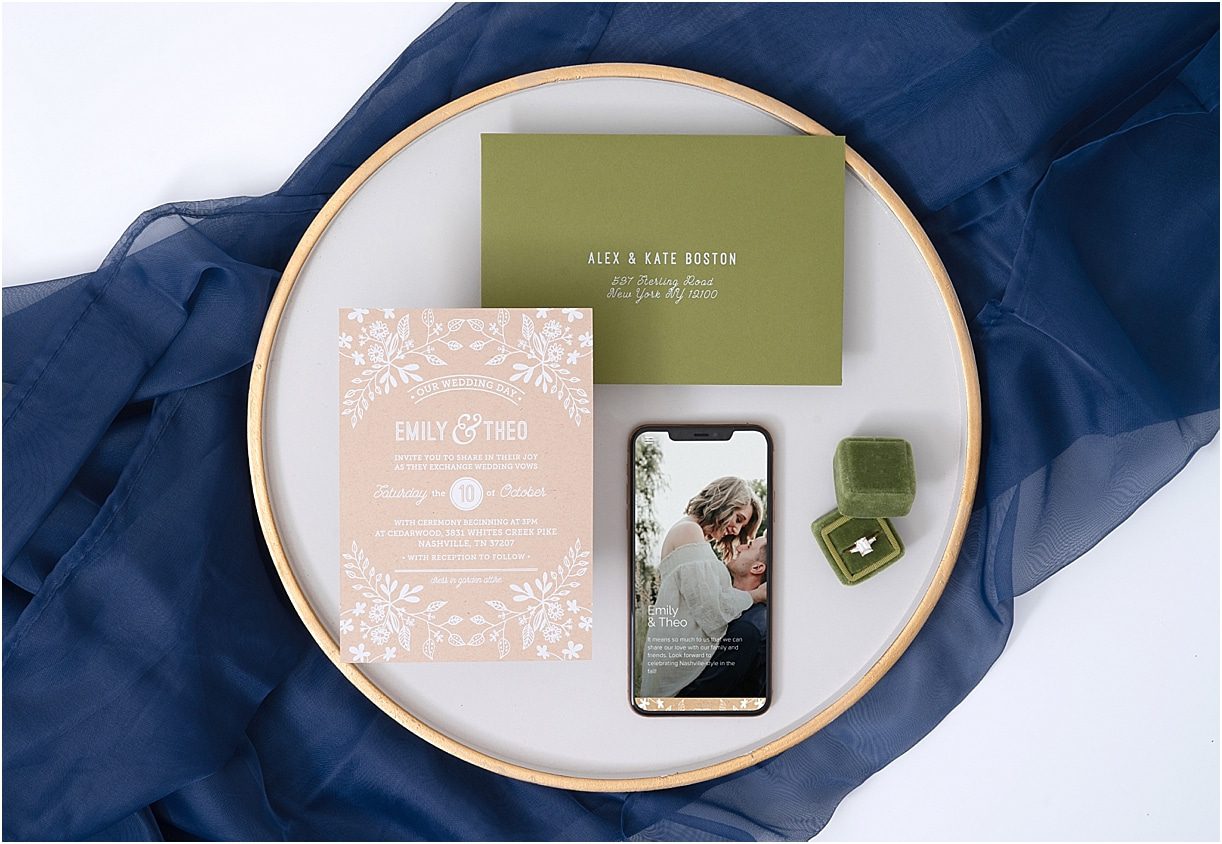 Your Wedding Checklist Website
So, which is your favorite and which wedding RSVP website best fits your style? I love that today's sites work hard to make things easy and organized for brides and grooms.
For more information about creating your free Joy wedding website, click here to find out all that they have to offer!