My husband and I recently celebrated our 23rd anniversary (so crazy how much time flies!), so when we were invited to stay at Graduate Charlottesville in Virginia, we took the opportunity to incorporate the lovely hotel into our anniversary plans. We had a wonderful time exploring a town that is close to home while also enjoying Heirloom for both dinner and brunch during our stay at Graduate. I can't wait to share more about our stay!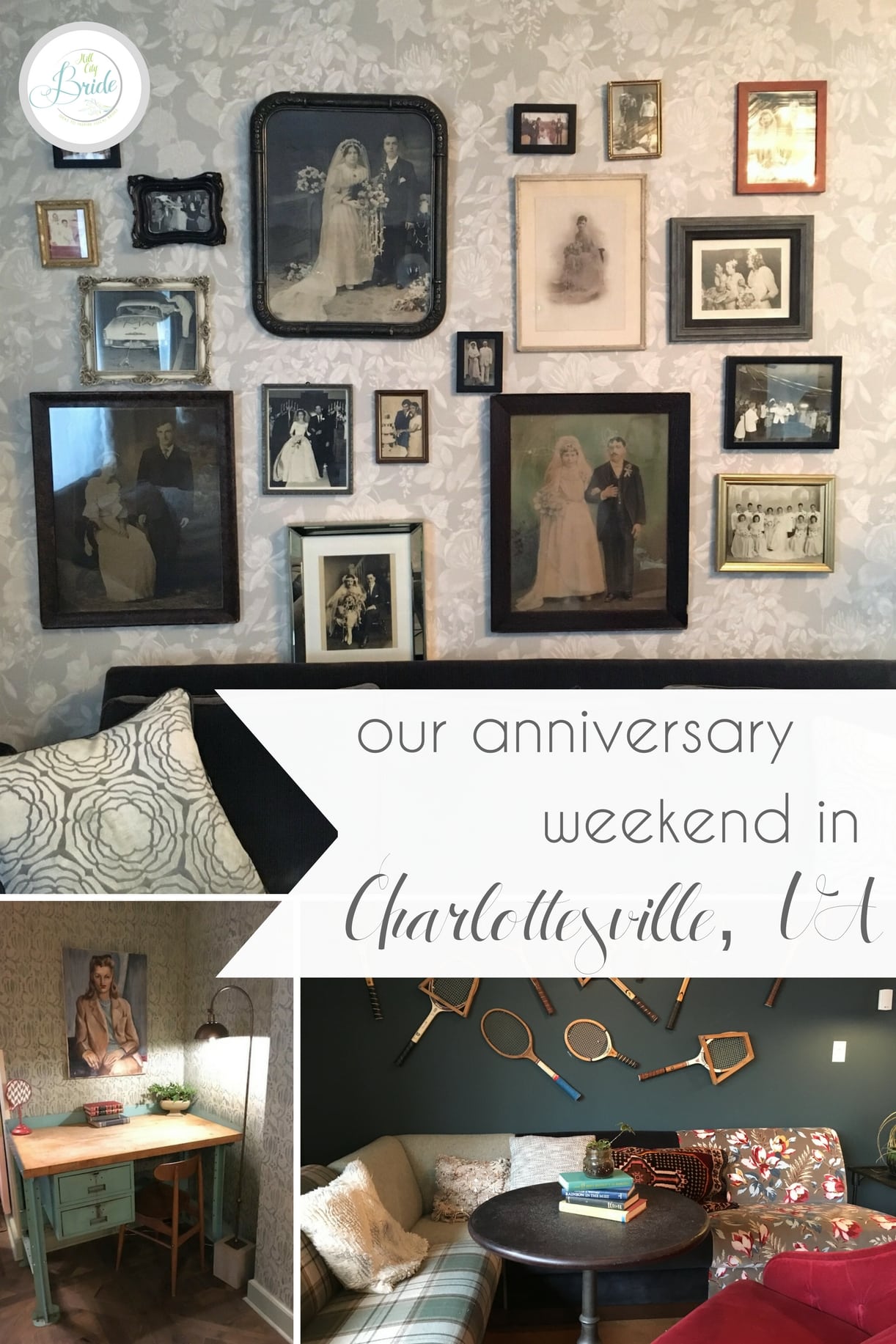 If you are planning a visit to Charlottesville, VA, I have a few favorite shops that are always on my must visit list while I am in town.
Charlottesville has many bookstores, and New Dominion Bookshop is in an area called the Downtown Mall. It's a quaint shop that has a lovely selection. We were there during the holiday season, and if you look close in the right window you will see someone wrapping gifts – so fun!
My husband has grown to realize that a trip to Charlottesville always (always, always) includes a stop into Low. Filled to the brim with era specific vintage clothing, I can always find a little something to take home with me! They have a selection of antiques and are also located on a side street in the Downtown Mall area. I adore Low and have been shopping there for years!
Circa is close to downtown Charlottesville, and it's filled with antiques and used furniture. If you are searching for the perfect piece, I am fairly certain they'll have it! Circa contains rooms and rooms of fun with an eclectic vibe.
Heartwood Books is also another favorite Charlottesville book store. It's packed with books – new, used and local – and the shopkeeper is so helpful! Grab a drink around the corner at Grit Coffee after you pick up a favorite paperback.
Now, I am a little partial to Charlottesville's rock paper scissors. I've known the owners for several years, and these ladies have an impeccable eye for all things lovely when it comes to design and paper. It's so easy to find a little something for yourself or as a gift in their bright and airy store. And – as you will notice – I have such a heart for local and shopping small.
You can also find a musician or two in Charlottesville's Downtown Mall area.
Although we were there in late November, we were there on a gorgeous, sunny day, which had the streets buzzing with activity. Also, if you look at the signs in the window, you will see the "C'ville" teal heart that the ladies at rock paper scissors designed to show unity and support throughout the community.
Remember that I said it was a beautiful day? We actually ate outside. In late November! We stopped at Sal's – the two of us just couldn't resist grabbing an al fresco bite to eat.
After exploring, we headed to Graduate Charlottesville for the night.
You may wonder why I started out with all of my haunts in the city. Partly, it was to showcase my favorites, but I also wanted to show you that I love all things vintage, local, and eclectic. When I first saw the photos of Graduate Charlottesville, I knew that the unique vibe would totally translate for me.
I adored the fact that they have bikes available for their guests to utilize. So much of Charlottesville is close by, and a bike is a perfect way to get around! Sidebar: it was quite an effort for my husband to snag this photo of me. Ha! We did have fun with the hotel staff while trying to get the perfect shot.
A walk around Graduate Charlottesville showcases just how retro the vibe is.
Playing off of the school theme (the hotel is close to UVA and the lounge areas are available for student use – brilliant!), nods to collegiate life are peppered throughout. Books, fun patterns, vintage pictures, and tennis racquets create comfortable, quiet spaces for studying or reading.
Now, on to our room at Graduate Charlottesville!
I love it when a theme is carried through well, and Graduate does it with perfection! Even the hotel directory resembles a composition book, and of course, I made good use of my mini notebook and pencil. Adorable!
A cheeky nod is given to celebrity when you receive your room key. We received "ID cards" of Tina Fey and Jessica Lange circa their college days. I dare say that not many hotel guests return their room key cards.
What a classy way to ask you to reuse your towels. And a credit towards the restaurants is well worth it (more on those later!).
Our room was comfortable and cozy. I adored the decor elements, which had the feel of being collected over time – all of which gave us the sense of a home away from home.
We were also greeted with a yummy selection of treats with a local flair and all delicious. Feast! snacks and Route 11 chips made the cut. Yum! And, of course, champagne is a must for any celebration.
Collegiate pennants alert staff to your needs, such as "studying" as a "do not disturb". Also, many travelers will be delighted that yes, you can bring your pet to Graduate Charlottesville. The teepee TP cover also gave us a laugh!
We also had the pleasure of dining at Heirloom, which is their rooftop bar and restaurant. Delicious!
The atmosphere is posh, and the views are lovely at the restaurant! I first tested out the Heirloom Whiskey Sour, which was both beautiful and tasty. I also have to say that the hostess, servers, and staff were so pleasant and accommodating to perfect our dining experience.

Our palates were delighted with the culinary artistry of Heirloom's Chef Frank Paris. We ordered the Charcuterie & Cheese Board and Steak & Potatoes. Chef Paris also surprised us with his delicious rendition of a sweet potato souffle. I would also highly suggest the Chocolate Ganache Tart. We almost didn't order it because we were already somewhat full, but it was a decision we definitely didn't regret!

After a restful night at Graduate Charlottesville, we "fueled up" with in-room coffee and then headed back up to Heirloom for brunch.

We were greeted with delicious, fresh orange juice when we arrived. What a wonderful start to our morning!
I've never had a salad for breakfast, so I couldn't resist starting off with the Kale Salad, which was so creative! If you look at the menu below, you will see that all of the ingredients – kale, avocado, green grapes, green onion, pistachio, lime, and EVOO – are all green. What a creative combination of flavors that work so well together! I actually crave it every once in a while. So, so good.
I also ordered Eggs in Purgatory, and my husband ordered Steak & Eggs. Chef Paris curated the menu himself, and everything was cooked and seasoned to perfection.
I enjoyed photographing the rooftop restaurant during the daytime, and the outdoor space overlooks the town. What a lovely combination of spaces.
If you are looking for a bit of a quick breakfast on the go, then Sheepdog Cafe near the lobby may be your go-to in the morning. What a fun atmosphere!

Of course, I checked out the wedding offerings of Graduate Charlottesville!
With its close proximity to UVA and shopping and on-site restaurants, wedding attendees would enjoy the overall experience that Graduate Charlottesville offers. Heirloom would also serve as a fabulous rehearsal dinner location. The hotel has a bridal suite for the wedding party to utilize to get ready (including a pretty rooftop lounge area) along with a lovely ballroom as a reception space.

Here are a few photos from a styled wedding at Graduate Charlottesville by photographer Adrienne Eichner, which show off some of the wedding spaces at Graduate.
As far as the community of Charlottesville goes…
On a personal note, when I was out of state recently, I was asked about Charlottesville and how things were for the community. After our visit, I do have to say that things are thriving, and you can see – and feel – the sense of unity in the city. But more than that, I encourage you to go and experience Charlottesville for yourself – and make a weekend of it! You'll be glad you did.
Craving more travel inspiration? Check out some of our other posts here.
Again, a special thanks goes out to Graduate Charlottesville for inviting us to stay and experience both the hotel and restaurant. They truly made our 23rd anniversary a special one!