Destination weddings are a trend that is on the rise. Today's couples are craving experiences and intimate events over long guest lists. If a smaller affair with style appeals to you, then saying, "I do," in a faraway location – such as having a destination wedding in California – may be the perfect fit!
I was an invited guest of Sonoma County, Off the Beaten Path Weddings, and Venone PR. All opinions are my own about these lovely experiences. All images are by Krista Marie Photography.
From casual farm events to posh wine cave experiences, the world really 
is an oyster for the couple wishing 
to have a destination wedding. Imagine an event at a one-of-a-kind privately owned estate. Your guests will enjoy gorgeous scenery and lingering around intimate seating areas. All of these small destination wedding ideas sound divine!
Of course, there are things to establish, such as logistics, location, budget, and whether you are looking for all-inclusive wedding venues. These are considerations for any wedding. That is where
 a trusted planner can come in to aid you in curating small wedding packages or elopement packages.
Having a Destination Wedding in California
I had the pleasure of heading to 
wine country in Sonoma County, California, where I experienced the offerings of Off the Beaten Path Signature Experiences (OTBP). The owner, Stephanie, is equipped to handle everything. From securing a location to providing food, flowers, and décor, she can arrange everything. Stephanie is also able to find different locations such as small, all-inclusive wedding venues and wedding venues with lodging in Northern California.
So, no matter your budget or taste, you can gain inspiration for your own destination experience. Take a peek at three events that are different stylistically yet equally lovely in their own right.
Relaxed, Casual Destination Wedding
When considering all-inclusive wedding packages, keeping it intimate and casual is not only appropriate for weddings. It can also include events such as rehearsal dinners and bridesmaid luncheons. Offering an upscale, healthy buffet lunch with beautifully wrapped sandwiches adds to the feel and allows for guests to mingle and enjoy conversation with others.
Swanky, Modern Outdoor Weddings
Whether you want a more formal rehearsal dinner or tend to enjoy chic events, the look and feel of a hidden, wooded estate decked out in globe lights is incredibly memorable as a wedding venue. All-inclusive additions such as farm tables and monochromatic décor can be complemented with colorful, fresh food offerings and well-stocked dessert bars.
Passing food family style will ensure your guests have a good time. Lingering by a bonfire allows for conversation to flow just like the wine. If you adore the event below, it is showcased in full here on our blog.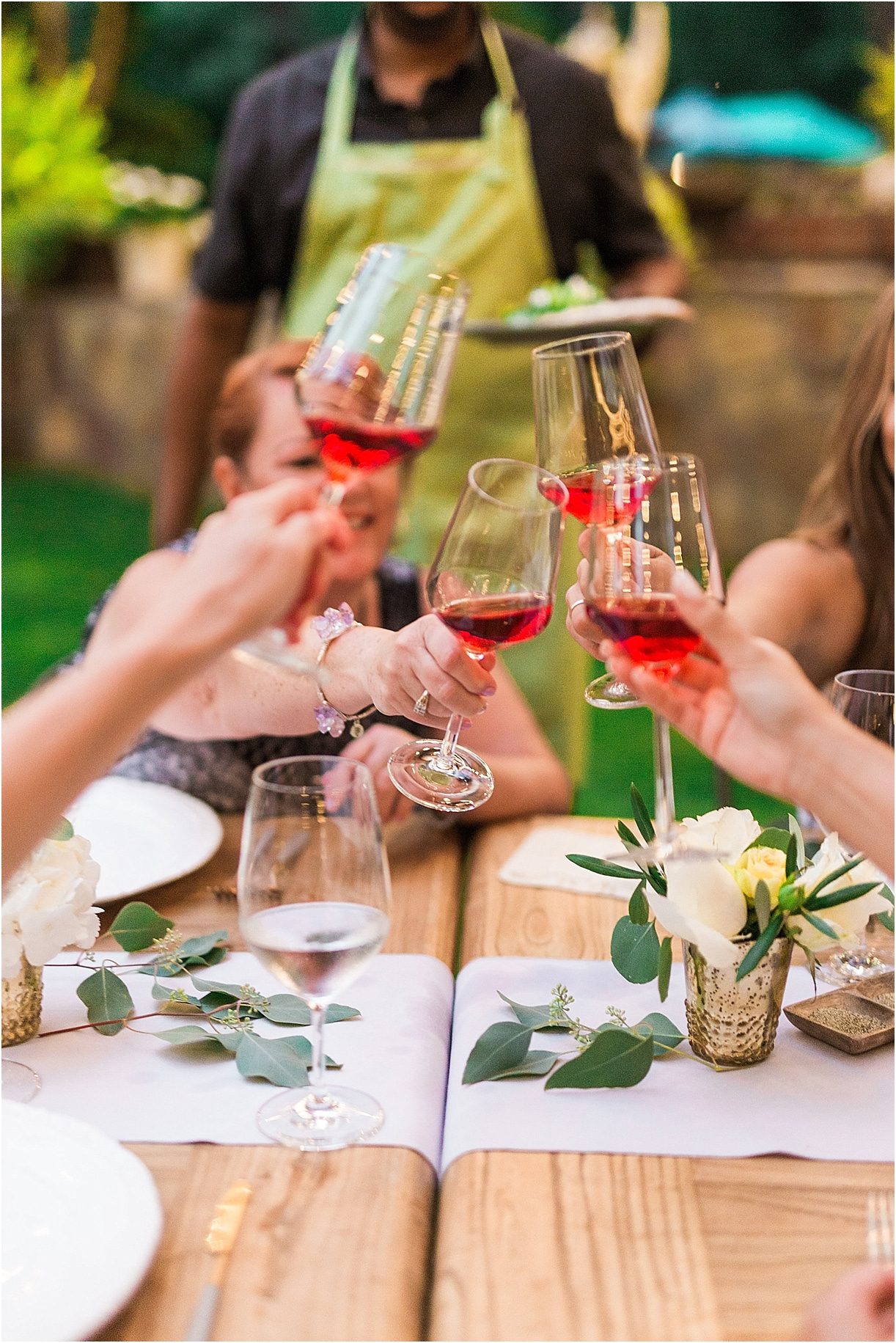 Lavish California Destination Weddings
For the couple that adores decadence, a destination wedding in California's wine caves may be just the ticket. With a controlled temperature and ethereal atmosphere, this experience is truly for the dramatic.
Guests can enjoy a cocktail hour outside on the gorgeous grounds. Then they can finally head inside to enjoy a decadent, plated meal at long tables that are centered down the middle of the cave. This is one of our favorite all-inclusive wedding reception packages!
How to Plan a Destination Wedding in California
So, you're considering affordable destination weddings, but where exactly do you start? Follow the steps below to work with Off the Beaten Path on all-inclusive wedding packages. Northern California (particularly Sonoma County) has so many unique destination wedding locations.
Whether you are planning a wedding in Virginia or having a destination wedding in California, having a planner is a must! It's so helpful to have someone on your side when you are searching for all-inclusive wedding packages in California.
Fill out a contact form at www.offthebeatenpathwinecountry.com.
Complete a client questionnaire.
Schedule a complimentary consultation.
Share any inspiration you have – a Pinterest board is great for this!
OTBP will help find and secure the perfect venue, source your ideal vendors, and help create a personalized style board for your wedding.
If possible, visit and schedule tastings and design consultations with OTBP.
Relax and enjoy your engagement.
Head to Sonoma County to eat, drink, and be married!
Oh, and if you are curious about what to wear in wine country, never fear. Take a peek at our wine country fashion guide here.