Wedding receptions are the capstone to your big day, as everyone gets to party and have fun together. Whether open or ticketed, the bar is a big part of that. But how do you know the best wines to serve at your wedding reception? We have the answers!
This post contains affiliate links, which help our blog grow. Thank you!
Whether you plan on hiring a bartender or creating your own DIY bar at your wedding, deciding what wine to serve can be overwhelming. Make the process of picking, ordering, and staying within your budget easier with this guide for the best wines to serve at your wedding reception.
Types of Best Wines to Serve at Your Wedding Reception
Wine can be divided into five main groups: red, sparkling, white, rose, and dessert. Depending on the needs of your special day, you may need many or just a few of the wine types from this list. Let's break these varietals down.
Red Wine
Red wine has a dark, brooding flavor and is made of dark-skinned grape varieties. These wines tend to be more on the dry side and slightly acidic. Most red wines pair well with meat dishes such as steak.
Popular red wines include:
Cabernet Sauvignon – dark, fruity flavors with spicy and woody notes
Pinot Noir – berry flavors mixed with earthy notes like mushroom and clove
Merlot – plum and black cherry notes with cedar and vanilla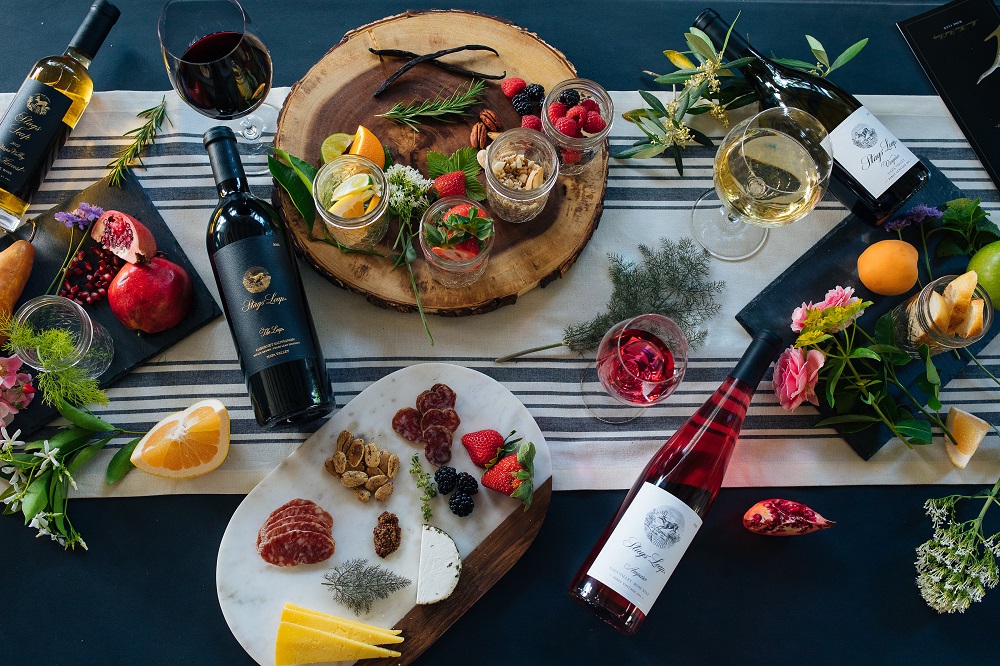 Sparkling Wine
Sparkling wine is a fizzy wine known best for its signature shimmering appearance. This type of wine is produced by fermenting the wine two times. Sparkling wines can also come in red, white, or rose and have moderate to high acidity. These wines pair well with cream cheese, seafood, and fruit desserts.
Popular Sparkling Wines include:
Champagne – lively and refreshing with lemon and apple notes
Prosecco – fruity with pear and citrus tones
White Wine
White wines are more elegant and known as the star of fancy evening events. Made by fermenting green-skinned grape varieties, these wines are highly acidic with low alcohol content and taste either dry or sweet. This type of wine pairs well with seafood dishes such as shrimp, fish, or crab.
Popular white wines include:
Sauvignon Blanc – citrus, lime, peach, and gooseberry flavors
Riesling – grapefruit, peach, and apricot notes for a fruit-forward taste
Chardonnay – dry and full-bodied with notes of vanilla and pineapple
Rosé
Rosé is a delicious blush wine made from red wine grape varietals. Additionally, it has limited contact with the grape skin, giving this wine its signature light pink color. Depending on your choice of varietal, the mouthfeel can be dry, sweet, or even sparkling. Rosé pairs well with chicken, salmon, duck, lamb, veggies, and cheese.
Dessert Wines
Dessert wines are known for their sweet taste. As a result, the residual sugar from the winemaking process gives this wine its signature sweet flavors. Of course, dessert wines pair well with desserts and sweet foods.
Knowing When To Serve Wine at Your Wedding Reception
Do you plan to serve wine during the entire reception or only at dinner? If you will be popping corks all night, you'll need much more wine. Will other drinks be available for guests, or is wine the only alcoholic beverage offering for your guests? These are all questions to consider.
The following guide should suffice if you need help figuring out when to pour the best wines to serve at your wedding reception.
Red Wine: The best choice for cocktail hour or to pair with the wedding dinner.
Sparkling Wine: Great to reserve for wedding toasts and celebratory moments.
Wine Wine: The ideal choice to pair with a rehearsal dinner or during the cocktail hour.
Rosé: Perfect to serve at wedding breakfast or post-wedding brunch and celebration. This would also work well to serve during cocktail hour.
Dessert Wines: Save this sweet wine to serve during dessert and the wedding cake cutting.
Want to save on your wedding wines? Check out the offers below!
Save the best wines to serve at your wedding reception!