Whether you need to restock your wine cellar or merely want to try a new variety, California wines fit the bill nicely. No matter where you are, you can order California wines online, so prepare to stay in and enjoy new flavors from The Golden State.
TL:DR ~ California produces some of the best wines in the United States. From Chardonnay to Sauvignon Blanc, California wines are perfect for restocking your cellar.
Why choose California wines?
Virginia has a fabulous wine region with some of the loveliest vineyards around. As a Virginia wedding blog, it would be a shame not to mention it!
It is no secret that California has some of its best wineries in Sonoma and Napa Valley. However, it IS a secret that some of the best California wines also come from other places. In fact, there are California wine regions up and down the entire state.
For the sake of ease, the focus is on wineries in various California wine regions. After all, the state has over 1200 California wine producers.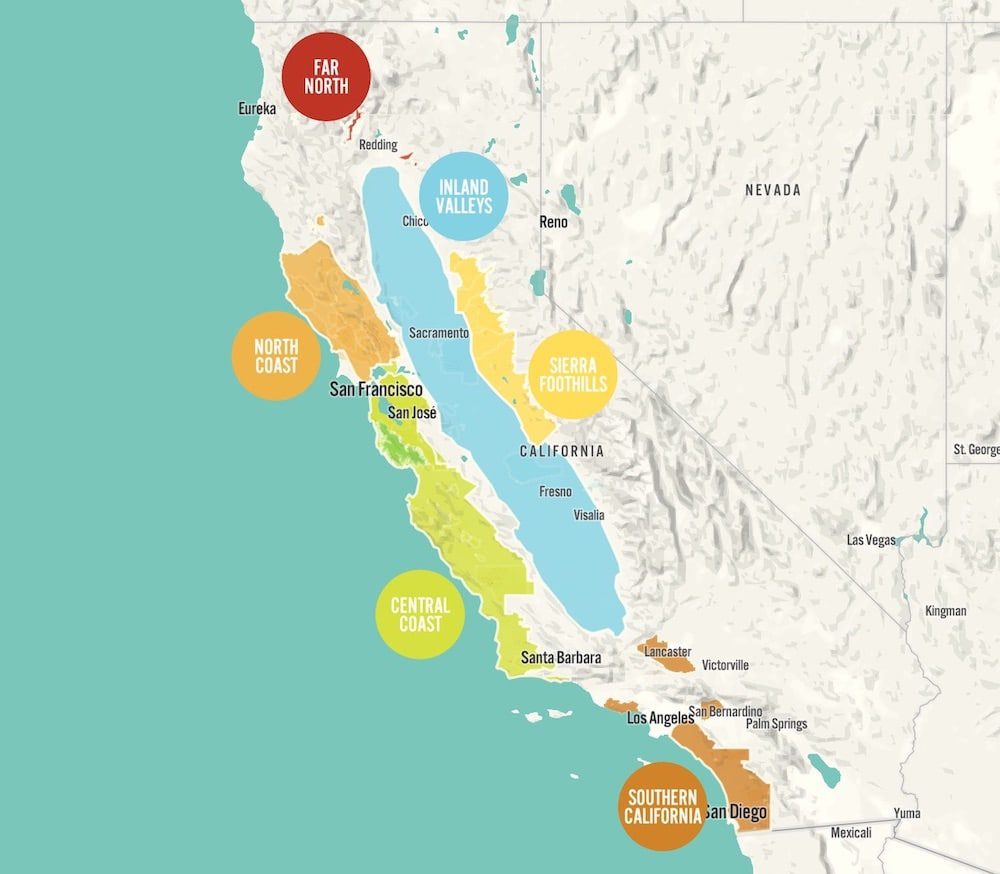 California wine regions pepper the state with prominent winery names all over the coast.
Although it's impossible to focus on them all, here are California wine producers who are ready and willing to deliver to your door.
One Other Note About California Wineries
In light of the recent wildfires, California wineries could use our help and support when many had to suspend operations.
So, it's a win-win! You can experience California wine country from the comfort of your home while supporting locally-owned wineries.
Best California Wines for Stocking Up
1. K Squared Cellars – Sonoma California Wine Region
K Squared Cellars is a family-owned winery located in Windsor. In fact, these California wine producers chose to name their business after their two children, Kaylie and Kyle. Hence, K Squared!
Not only is the name creative but they are known for award-winning wines. If you're heading to the North Coast area, be sure to add them to your Sonoma wineries list.
The One to Try: The 2018 Cabernet Sauvignon just won a Best of Class Award at the 2020 Sonoma County Harvest Fair.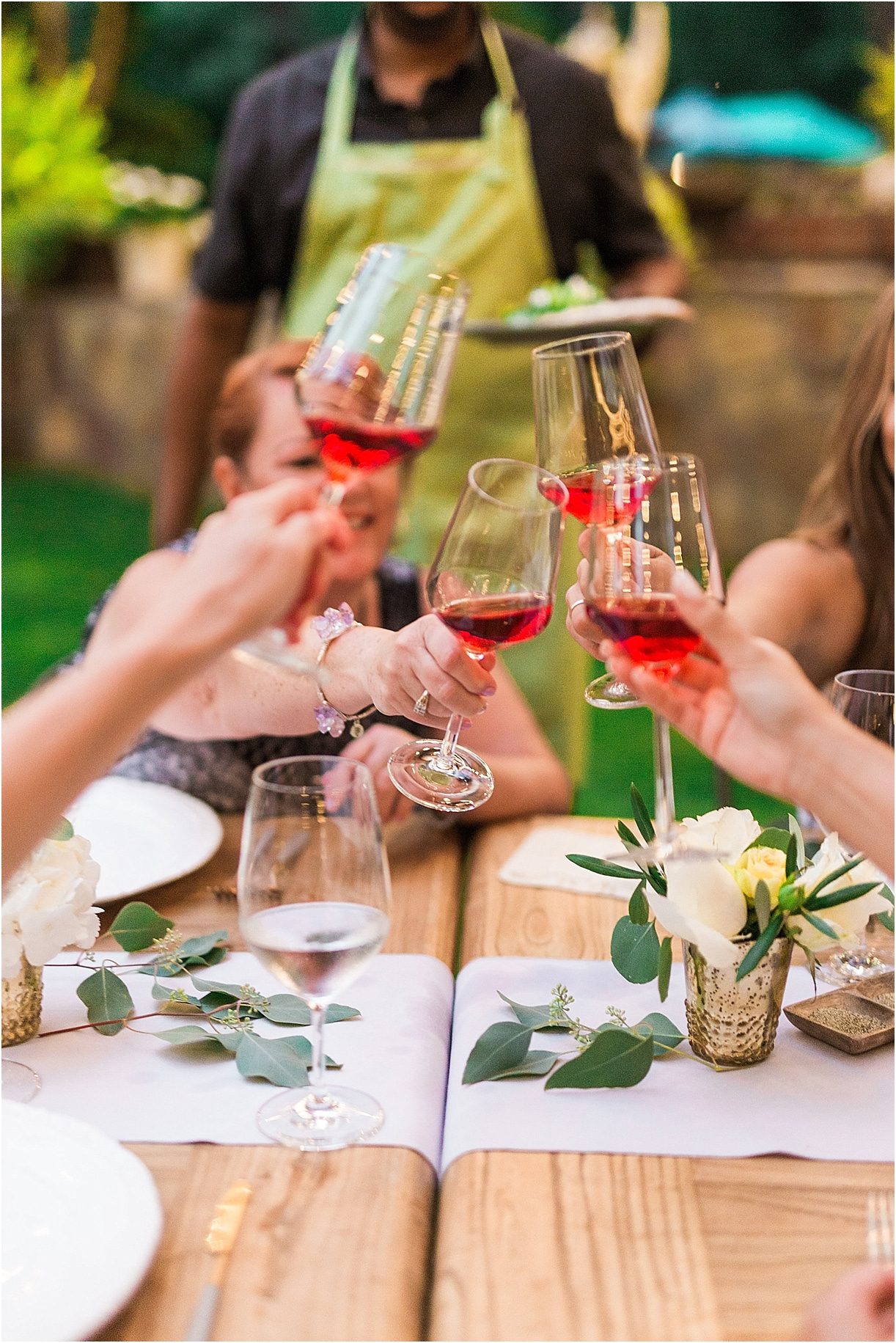 K Squared Cellars is one of the best wineries in Sonoma and has award-winning wines.
2. Clos de la Tech – Pinot Noir California Wines
If your go-to varietal is Pino Noir, then consider Clos de la Tech's wines. Made in limited release, their wines are produced from three vineyards located in Woodside and the Santa Cruz Mountains.
One of the things that connoisseurs will appreciate is the detailed description of each wine. Facts, such as the vineyard, how it was made, and tasting notes, will help you determine which will suit you.
A Note About Shipping: Please note that although they do ship to Virginia, they do not ship to all states. Consult their shipping map to be sure that you can receive their wines.
When it comes to winery names, Clos de la Tech gives a nod to France.
3. Petroni Vineyards – One of the Best Wineries in Sonoma
Although not many are able to head to Petroni Vineyards, their property is beautiful and includes a stunning wine cave. But you don't have to be on-site to try some of the best California wines from Petroni.
It's simple to enjoy the taste of one of the best wineries in Sonoma. Those in Virginia can order their California wines online, or you can join their wine club. Petroni offers several varieties, including Cabernet Sauvignon, Chardonnay, and Cabernet Franc.
Consider Adding Olive Oil: When purchasing wine online, be sure to add a bottle of olive oil to your order.
Petroni Vineyards is one of the best wineries in Sonoma.
4. Darcie Kent Vineyards – Sampling the Best California Wines
The story of Darcie Kent—a fifth-generation vintner—is inspiring! In fact, her family's winemaking history dates back to 1883 with her great, great-grandfather. Like her ancestor, she uses original artwork for the labels, and Darcie is the artist.
Wines can ship to Virginia individually or in packs containing a mix of varietals. Offerings such as Chardonnay, Zinfindel, and Cabernets top the list of their customer's favorites. They are also part of Livermore Valley Wine Country.
About Their Vineyards: The majority of their grapes are sourced on their 40 acres of vineyards. Their only exception is their bottle-fermented sparkling Grüner Veltliner.
Winemaking has been in Darcie Kent's family for five generations.
5. Scheid Vineyards – Sustainable Wine Producers
Although their vineyard has its roots in Greenfield, California, Scheid Vineyards has grown to 12 estate vineyards within the Monterey AVA. Their specialty is a deep commitment to sustainability, one evidence of which is the addition of a wind turbine.
Wine Enthusiast magazine recognized Heidi Scheid, who oversees sales and marketing, with their Person of the Year, Wine Star award. Scheid was recognized for the winemaking process, sustainability, and their "Sunny with a Chance of Flowers" zero sugar, low calorie, and low alcohol brand.
Talk About Awards: Scheid Vineyards also earned the California Green Medal Environment award in 2019 for their work on the fields and winemaking process.
Sustainable winemaking is a specialty at Scheid Vineyards.
6. Silver Trident Winery – Napa Valley Wine
Silver Trident Winery is a boutique California winery that produces just 3500 cases annually. They offer several varieties, such as Cabernet Sauvignon, Sauvignon Blanc, and a proprietary Napa Valley Red Blend—all of which can be shipped to Virginia and beyond.
Silver Trident is located in Yountville and sources its grapes from several vineyards throughout Sonoma and Napa to create beautifully crafted California wines.
Try Their Rosé: If you're a fan of rosé, their 2018 Rosé of Pinot Noir is a fruity blend of summer berries with hints of cinnamon and rose petals. Sounds delish, and it comes in a stunningly shaped bottle, too.
Napa wineries, like Silver Trident, produce tasty Napa Valley wines.
7. Old County Cellars – California Wines in San Carlos
Friends do many things together, but the best thing a group in San Carlos did was start a winery. After making California wines together for several years, four friends started Old County Cellars.
Their grapes are sourced from surrounding regions, such as San Mateo County, El Dorado, and the Santa Cruz Mountains. Join their wine club or purchase individual bottles to be shipped to Virginia—their minimum shipment is three bottles.
A Perk to Their Wine Club: Anyone can join their wine club (over 21, obviously). It's free to join, and you receive discounts, so it's a no-brainer for sure!
Gather with your BFFs over wine created by four friends with a love for winemaking.
8. Testarossa Winery – Best California Wines in Los Gatos
Although we encourage you to order California wines online, the building that houses Testarossa Winery deserves some accolades. It was built by the Jesuits in 1888 to make altar wines.
Like many other California wineries, they offer quite a variety of wines, which can be shipped to The Old Dominion and beyond. They sell wine by the bottle and also through their club.
The Meaning of Testarossa: Testarossa means "redhead" in Italian and was Rob's nickname while he was a student in Italy. He and his wife, Diana, own the winery.
California wine producers, Rob and Diane, used Rob's nickname as their winery name.
9. Murrieta's Well – California Wine Producers
Part of Livermore Valley Wine Country, Murrieta's Well prides itself on small-batch, handcrafted wines. With whites, reds, and rosés on their list of offerings, their property is one of California's original wine estates.
It was started in 1884 with cuttings from France, descendants of which still produce grapes. The property was sold to the current family in 1940 and it continues making delectable wines for any palette.
Using Gravity Flow: The original building was constructed as a gravity-flow winery, and the building is utilized as the tasting room today.
Small-batch handcrafted and history describe the wines of Murrieta's Well.
10. Talbott Vineyards – Monterey County Varietals
This vineyard located in the Santa Lucia Highlands crafts estate-grown Chardonnay and Pinot Noir, which are Monterey County's top two varietals. Of course, these wines are popular with connoisseurs as well.
Talbott Vineyards recently just opened up a new tasting room, which is the largest in Carmel-by-the-sea. That's impressive, considering the area is a one-square-mile charming seaside village. Be sure to visit if you're in the area!
Wine Three-Decades in the Making: The vineyard also received a rare 100-point score in a Wine Spectator retrospective tasting for their 1990 Sleepy Hollow Chardonnay.
California wine producers, such as Talbott Vineyards, make award-winning varietals.
Have you sampled the best California wines?
California wine country is both beautiful and flavorful. Although you may be staying put at home, letting your tastebuds travel can be a wonderful adventure with our suggestions. Happy tasting!
Photos by: Louis Hansel, Krista Marie Photography (1,3,6), Elle Fairytale, Elina Sazonova, Cottonbro, Orange Photographie, Daria Shevtsova, Lefteris Kallergis