Whether you get nervous or simply want to hold something during the wedding ceremony, write your vows down! Ditch the scrap of paper and trade it for a keepsake instead.
This post contains affiliate links, and purchases help our Virginia weddings blog grow. Thank you!
Why write your vows down?
If you decided to write your wedding vows, why not find a way to make them more memorable? And you can do so whether you intend to share these wedding vows in front of all your guests or quietly behind closed doors.
A wedding vow book can help you create a wonderful keepsake for your spouse. Making one is also a creative way to make your enchanting vow photos look amazing! Here is why you should get wedding vow books for your big day.
5 Reasons to Write Your Vows Down
1. You will feel calmer if you write your vows down.
Wedding vow books can be more supportive than people give them credit! They're especially helpful when you and the love of your life are standing in front of all your guests.
If you're considering rolling out sheets of paper or pulling out your phone to read from the screen, don't. Keepsake vow books look so much nicer in photos. Plus, they can keep you organized and give your hands something to hold if you get nervous.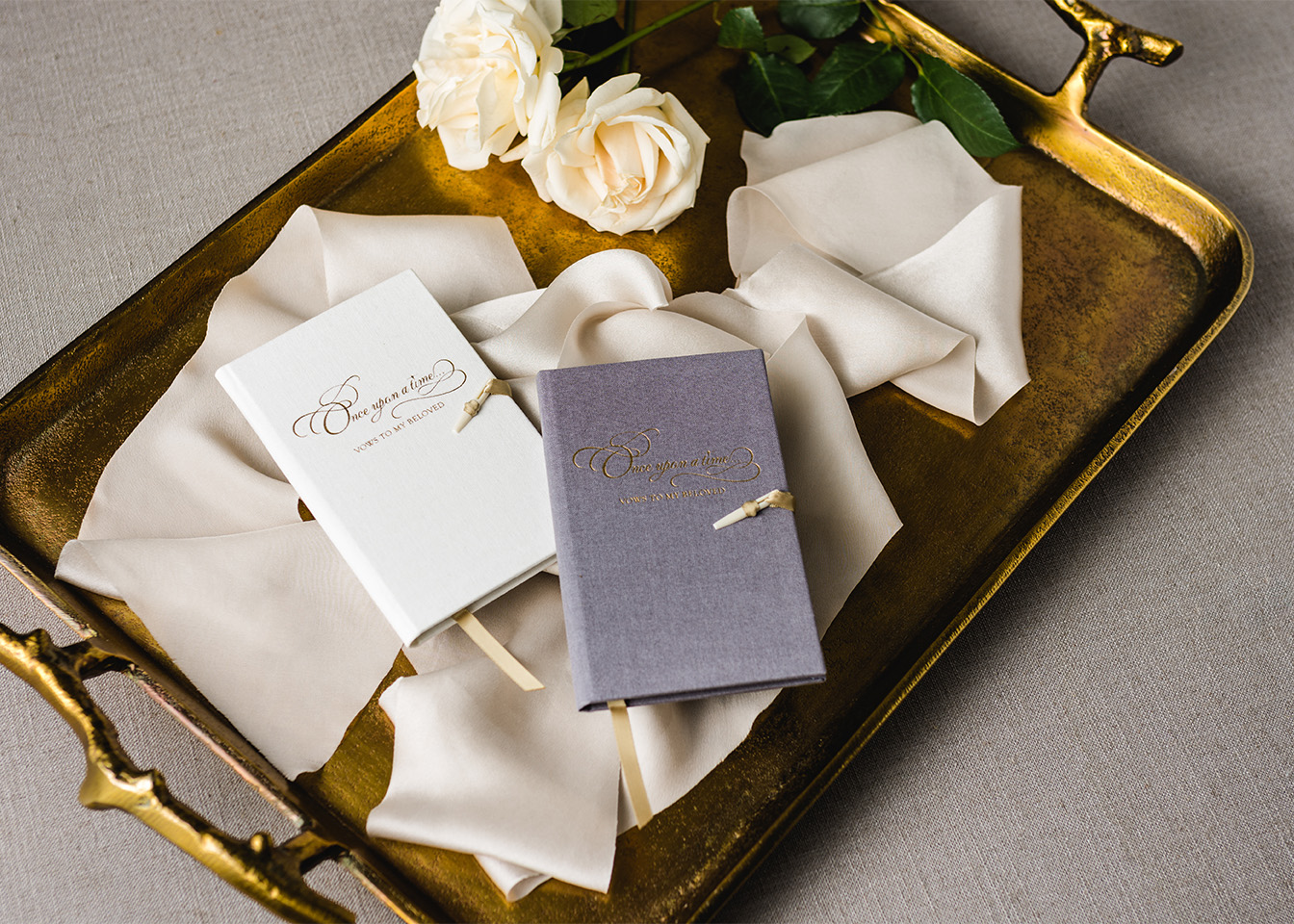 2. Your wedding vows will look pretty in your photos.
Do you know what doesn't make for great photos? Someone reading from their phone, trying to read smudged ink on a piece of paper, or fumbling through their pockets to find your vows.
Instead, having a simple book you can hold or pull out will look nice in your vow photos. Plus, it can make the whole ceremony look better too!
3. Your exchanged vows will become a keepsake.
Aside from any wedding videos, photos, and your own memory, there aren't too many keepsakes from your wedding day that you might use or look back on again.
Many weddings are focused on experienced-based things such as dancing, which is why photographers and videographers are crucial for weddings. Vow books can give you a great tangible keepsake to take with you and remember your day.
4. Your wedding vows move forward if you write them down.
If the idea of just writing down your vows in a little book doesn't sound like it's worth the splurge, you may want to rethink your decision. Plenty of vow books do more than provide blank pages for all the things you vow to do.
For example, some books help you document your relationship moving forward from the wedding day. Others allow you to mark milestones and leave handwritten notes.
5. You can repeat your vows later on in life.
Most vows get said when you're up by the altar and then are promptly lost or gone with time. If you don't use a vow book for your wedding day, you can still incorporate the books into your own special moment.
You can do them for a first look, exchange love letters, or even just to have for later. You can always copy them in neat calligraphy or special writing for a keepsake piece.
Save our tips to write your vows down.
If you are looking for a special way to share your vows on your wedding day, consider picking up a set of your own vow books.
Photo: Eugenia Remark and The Art of Etiquette