Wedding invitations require much more than slapping a stamp and sticking your card in the mailbox. It's important to be aware of wedding invitation etiquette guidelines before you ever put your letter in the mailbox. From when to send them out to what you should include, here are six simple ways to ensure you have proper wedding invitation etiquette to set the tone for your big day.
This post contains affiliate links, which help keep us blogging. Thank you!
6 Tips for Wedding Invitation Etiquette
1. Send your wedding invitations out on time.
One of the most common questions about wedding invitations is how far in advance to send them. Traditionally, you will send your wedding invitations six to eight weeks before. This gives your wedding guests plenty of time to make travel arrangements if they live far away. Friends and family can also ask for time off of work.
If you are planning a destination wedding, we recommend sending wedding invitations at least three months ahead of time so your guests can make it. Another option is to send Save the Dates so that loved ones can plan well in advance.
2. Ask for your wedding RSVPs in a timely fashion.
You want to make your RSVP date two to three weeks before your wedding date. This should allow you and your wedding venue plenty of time to complete things like your reception seating chart and final head counts for your caterer.
Ensure you include your RSVP cards with your wedding invites so you don't have to worry about sending them separately. Give your wedding party and others a quick call if they haven't responded by the deadline.
3. Include all the necessary information on your wedding invites.
Ensure your guests are well-informed and have all the information they'll need for your special day. This should include a few basics such as:
Date
Time
Location of the ceremony (and reception if different)
If you are hosting your reception at the same location, include "reception to follow" so your guests know they don't need to go to another location. Be sure to include your wedding website, other events, dress code, and hotel block on an information card to ensure folks don't miss any important details!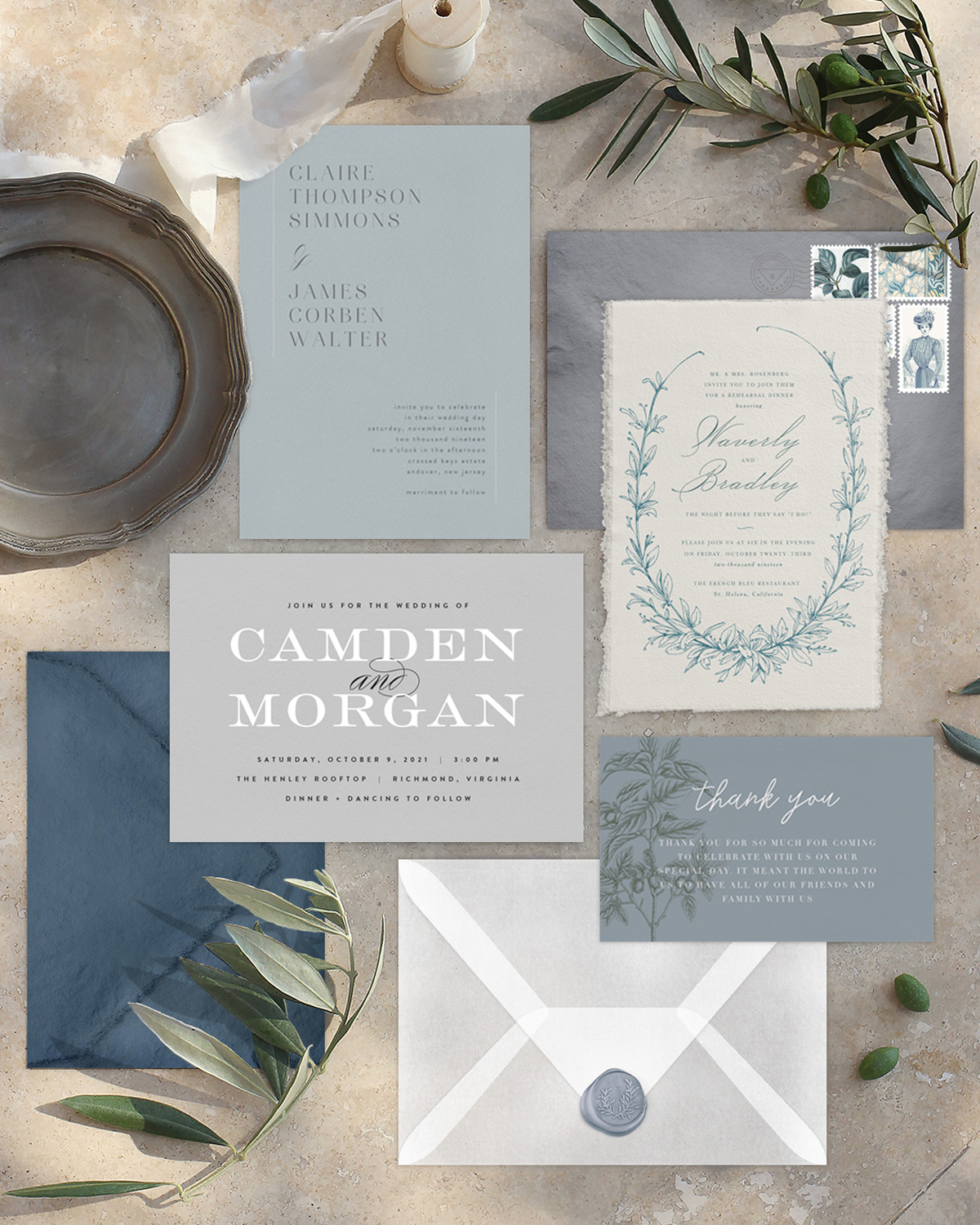 4. Skip adding your wedding registry link directly.
You don't want to include your registry link on the invitation; instead, include a link to your wedding website. As long as your registry is easy to find on your website, this will serve the same purpose but in a more elegant way.
5. Clarify who is invited in your wedding invitation etiquette.
Make sure you make it clear who is invited to your wedding in how you address them. For example, if you invite the entire family, such as the couple and their children, use "The Hanson Household," but if you invite only the couple, use "Mr. and Mrs. Jared Hanson."
If you are allowing a guest or +1 with your invites, make sure to write "and Guest" on the envelope, so they know. No matter what you do, be sure to be specific so that there aren't any questions.
6. Put a stamp on the RSVP envelope or use online RSVPs.
Have a pre-addressed and stamped envelope ready for your guests to make sending an RSVP as easy as possible. Your guests should not have to pay to reply. You can also use an online RSVP system to make it easy for you and your wedding guests.
A lot comes with sending out invitations, and you want as much clarity as possible. Hopefully, this guide has helped you identify areas you need to fix on your wedding invitations so you can ensure you have proper wedding invitation etiquette before they go in the mailbox.

Save our wedding invitation etiquette tips!
Your wedding stationery is the first impression of your special day! Our wedding invitation etiquette will get you off to a great start.
Photos: Fiona Murray, Greenvelope, and Minted